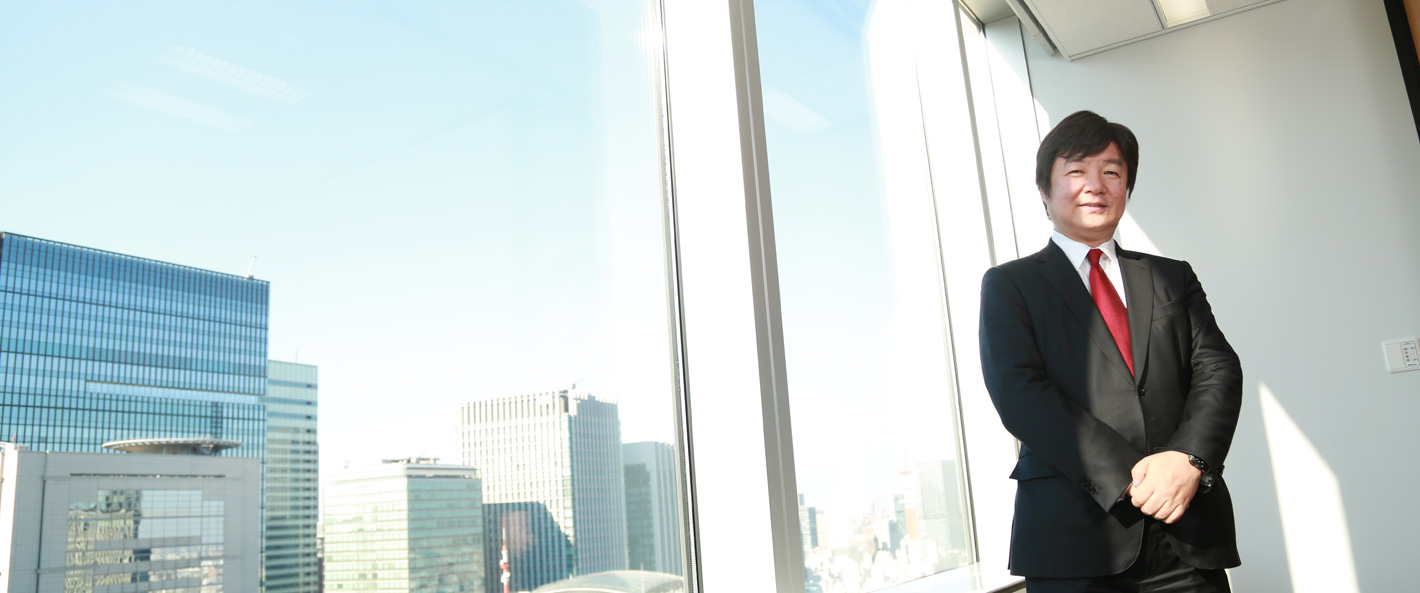 Office overview
Name

Shobayashi International Patent and Trademark Office

Office Locations
Head Office (Tokyo)
Sapia Tower, 1-7-12 Marunouchi, Chiyoda-ku, Tokyo 100-0005 JAPAN
Kansai Regional Head Office
Aioi Nissay Dowa Insurance Midosuji Building, 3-6-1 Hiranomachi, Chuo-ku, Osaka-city, Osaka 541-0046 JAPAN
Ueno Office
Ueno-ekimae Dai-ichi Life Insurance Building, 7-2-10 Ueno, Taito-ku, Tokyo 110-0005 JAPAN
Nagatacho Office
2-16-2 Hirakawacho,Chiyoda-ku, Tokyo 102-0093 Japan
Representative
Patent Attorney Masayuki Shobayashi
Establishment
1998
Organization of
staff members
We have and over 250 staff members, including more than 65 registered patent attorneys, who specialize in all fields.
Work content

Application and intermediate treatment of domestic and foreign patents (including business-model patents), practical models, trademarks, and designs
Trial cases and litigation rescinding the trial
Infringement lawsuits and judgment
Consulting for application strategies
Technical inspections (known art and research material)
License agreements
Trademark research
Intellectual property consultation meetings, seminars, and lectures
Electronic notary (web service)
Management of annuals fees for patents
History
Since being established in 1998 by patent attorney Masayuki Shobayashi, we at Shobayashi International Patent and Trademark Office, have adopted the motto "Depend on us and you need not worry; we are a reliable patent and trademark office" and have been working to expand our business.
1998

In March 21st, 1998 (Heisei 10), the company started in "one room in an apartment" in Minami Ikebukuro. 
Until then, I progressed from being of a working patent attorney, to doing joint office management, to working as a successor, and then I decided to become independent. 
Even now, I sometimes look back and think maybe I should have done it by myself from the beginning. However, because I went through the experience of creating different types of relationships with people, I believe that this experience has become the foundation for who I am now, as the founder of the company.
For example, when we started, our office was only two rooms.
In a room where everyone is together with the office manager, even though the manager had no problems, the other staff members felt a bit crowded.
As for that, I feel that I went through all that trouble because I had experience in joint office management and working as a successor.
By the way, even now, when going on business trips with junior employees, the sjuniors sitting far away from the manager is a tradition at our company that has continued since our founding.

1999

At this point we had grown to four to five staff members.
Because we all get along very well together, we treated ourselves and went on a company trip to Hawaii.

2000

We hired internal planning staff for the first time, greatly shifting from relying on outsourced planning to having internal planning.
We canceled our seminar for students who planned to take the examination to become patent attorneys and focused entirely on our own work.
Morning, afternoon, and night we devoted ourselves entirely to our work. 
We were incredibly busy, but we felt fulfilled.
Also, some of our staff who took the examination to be become patent attorneys passed the examination.

2001

We established Shobayashi Offices Limited (with capital of 3,000,000 yen) 
Our business went smoothly, and in our work, we made great efforts to produce thorough and high-quality work to fit the needs of our customers.

2002

Like the previous year, our business went smoothly and, without any major incidents, it was very harmonious in our office.
We smoothly increased our sales and we also hired new employees.
However, compared to increasing our sales, maintaining our staff was more difficult; but we achieved a venture "milestone" of "ten people out of a billion" (a state where ten staff members generated one billion in sales).

2003

At our office, we did our first "hiring of new graduates".

2004

We started our first business administration reform.
We established Pro-link Ltd. (with capital of 40,000,000 yen)
Up until the beginning of the previous year, the administration situation became difficult again, but, as administrators, we learned a lot during that time.

2005

Our office began to rapidly expand, and the number of staff members surpassed 50. Realizing that two rooms was no longer enough space, we moved our office to Takese Building in Higashi Ikebukuro.
This was the end of our first business administration reform.
This year, we changed the name of our office from "Shobayashi International Patent Office" to "Shobayashi International Patent and Trademark Office". In October, we went to Europe to make our first international sales, and in November, we participated in the APAA (The Asian Patent Attorneys Association) Council (held in New Delhi, India).

2006

We started our second business administrative reform, and, at the same time, we hired many patent attorneys.
In August, we participated in the FICPI (Federation Internationale des Conseils en Propriete Industrielle) general meeting for the first time.
In September, our staff surpassed 100 people.
Additionally, the fulfillment of our judicial affairs and design and trademark departments was accelerated.
In December, we celebrated our end of the year party and Christmas party at a hotel.
That year, the number of our staff members increased by approximately 100%.

2007

We established Shobayashi Ltd. and Associates (with capital of 9,000,000 yen).
We started an administration team for expanding our business scale.
With the expansion of our business, we also expanded the size of our office by 50%.

2008

Our number of cases increased suddenly, and our office, in an extremely busy state, worked ceaslessly.
In February, and then again in March, we broke profit records.
Then, in March, we celebrated our ten year anniversary.
For one night and three days at the end of March, we went to New York and attended the Judge's Dinner.
There, we met our former students (our past students who were going to take the examination to be patent attorneys) and we were deeply moved.
Seeing our former students becoming active in the legal world was an inexpressible feeling.
In September, the entire world entered a financial crisis because of the Lehman shock.
Following that, the intellectual property industry was affected, but our office, in an effect to regain business, started increasing the amount of new customers, which helped to ease the effects of the shock later.

2009

We accepted WIPO trainees and taught them about intellectual property business practice.
In May, we participated in the INTA, and while many participants cancelled because of the financial crisis and the Asian flu epidemic, we actively did business abroad.
(We managed to make it through the year without anyone contracting the new strain of influenza.)

2010

We introduced our electronic notary service.

2011

Thankfully, we didn't sustain any noticeable damage during the Great East Japan earthquake in March, and we were able to continue business as usual; however, while the distribution of electric power was very strict, we moved and seperated our offices in order to maintain the stability and continuity of further business. 
Our single office up until then in Ikebukuro became two offices, one in Marunouchi (Tokyo) and the other in Ikebukuro.
We established a new office in Osaka and created a solid position there for our company.

2012

We moved our office from Ikebukuro to Ueno, and Marunouchi, Ueno, and Osaka became the three main locations of our organization.
Additionally, we also set up a separate satellite office in Ikebukuro.

2014

At this time, we assembled a team of patent attorneys, lawyers, consultant engineers, directors, a management section, and other kinds of staff members, and we became able to handle matters in a wide variety of fields, allowing us to offer one-stop service related to intellectual property.

2015

The Intellectual Property Information Browsing Service was launched.

2018

March 21 marked the 20th anniversary of the opening of the office.
We reorganized our Osaka Office into our Kansai Regional Head Office in May.
We greatly increased the number of staff members and restructured our organization so that our Kansai Regional Head Office will take the initiative to serving our customers from the Kansai area.